by Todd Berkowitz | September 4, 2013 | 1 Comment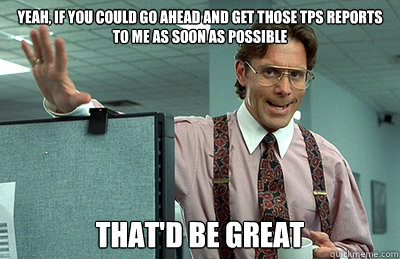 Let's face it. Aside from lawyers, process management gurus or consultants, most people who work for tech companies are not huge fans of process. Startups in particular tend to thrive on being agile, nimble, and free-thinking and process is often viewed as the antithesis of these ideals. But as tech companies grow, process becomes more utilized. Human resources adopts a set of policies for hiring and managing employees. Product development adopts a development methodology. And finance and legal have a whole set of processes that govern how they do their jobs.
But marketers have been some ofthe last holdouts. Marketing Operations tends to have a set of processes for executing campaigns and creating content, but they are either poorly enforced or ignored by product marketing and sales. And this tends to result in some decidedly bad outcomes including:
Campaigns that take way too long to get out the door
Use of old/incorrect collateral by sales
Limited visibility into how much is spent on particular campaigns and how they are performing
Costly and unnecessary re-creation of content
Yes, the freewheeling culture is partly to blame, but part of it can be attributed to a lack of technology and automation to ensure those processes are being utilized and followed. My new (and first!) research note, called "Tech Go-to-Market: Marketing Resource Management Drives More Effective Marketing and Better Alignment with Sales" (subscription required), focuses on how providers can solve this from a technology standpoint. For the record, Gartner defines Marketing Resource Management (MRM) as a set of processes and capabilities designed to enhance a company's ability to orchestrate and optimize internal and external marketing resources.
Tech companies have been among the most aggresive adopters when it comes to Mult-Channel Campaign Management (MCCM) and Lead Management software, but far less aggressive when it comes to adoption of MRM applications. But the business case is every bit as compelling. Providers that have implemented MRM software often see the following benefits:
Lower Costs by reducing unnecessary spending on ineffective programs, creative production and rework, rush jobs and many other areas.
Efficiency gains by executing more campaigns and/or producing more content with the same number of resources.
Improved marketing effectiveness by ensuring that activities align to objectives, content is reviewed by the right people at the right time, and spending is allocated to the highest-performing activities
Better ROI tracking by linking spending information with activities and analytics
Greater alignment between marketing and sales by allowing  greater input and visibility into what marketing is doing
The last benefit is key. This note this is part of the Future of IT Sales Special Report because MRM is a great way to get sales and marketing on the same page when it comes to content and campaigns. My colleague Hank Barnes has a note out today as part of that special report called "Tech Go-to-Market: Align Marketing Activities to Tech Buying Cycle Activity Streams for Highest Impact' (subscription required). One of the key takeaways is that as potential buyers  do more searching for information on their own, getting their attention is harder and sales and marketers need to broaden their efforts beyond traditional demand generation strategies. MRM can help to faciliate this.
The note goes on to describe the five different MRM competencies including Creative Workflow Production, Planning and Financial Management and Marketing Asset Management in more detail and talks about some suggested paths for implementation. But if MRM isn't on your radar screen for 2014, it needs to be.
Additional Resources
View Free, Relevant Gartner Research
Gartner's research helps you cut through the complexity and deliver the knowledge you need to make the right decisions quickly, and with confidence.
Read Free Gartner Research
Category: future-of-sales marketing-operations

Tags: demand-generation future-of-sales marketing-operations marketing-processes mrm